Common Slab Leak Causes, How To Fix And Prevent Them
Have you suddenly noticed moist spots on your floor? Have you been frustrated by low water pressure in the shower? Are you facing higher utility or water bills than usual? If so, this means you may be dealing with a slab leak in your home.
Before we explain what a slab leak is, you should understand what's below your house regarding your plumbing foundation. Many homeowners don't know you have two plumbing systems under your home, and that is the sewer system and the water system.
The sewer system is hooked up to all the drains in your house and carries all of your wastewater away from your home to the city sewer lines. The water system is connected to all of your faucets, valves, and appliances that need water supplied throughout your home, and either one of these systems can leak inside and underneath your homes foundation.
What Is A Slab Leak?
A slab leak describes a leak that has emerged in the copper water lines running below your home's concrete foundation. Pipes inside or below a home's foundation start to leak when they develop small pinholes for a variety of reasons, from materials, poor craftsmanship, and father time.
While these leaks can seem small, they can lead to significant water damage, a higher water bill and costly repairs. These under the slab pipes feed water to fixtures and appliances throughout your home, and you rely on them daily to keep your faucets, toilets, showers, and washing machines running smoothly.
If you left a slab leak unattended, it could saturate soil under your home, making your floors rough and slowly dropping the building. If you want to prevent your home from experiencing such a fate, make sure you know the leading causes and warning signs of slab leaks.
What Causes A Leak In The Slab?
Pre-Damage And Poor Installation
The most common cause of slab leaks is poor installation or pre-damage to materials during installation. When a plumber lays down copper, it comes in a big roll and is unwound onto the ground. If it is being unrolled onto a rough surface with gravel, rock, or debris, it can create dimples in the lines. If your water pipes were bent or dented during installation, the affected areas could cause the pipes to leak and potentially fracture because of the rough properties of water flowing by overtime.
PRO TIP: If using copper, a great plumber will often lay it down onto a sand bed to avoid causing damage to the pipe.
Usually, copper pipes are at higher risk of suffering from corrosion as they are naturally softened and more vulnerable to elements. In some cases, a slab leak may require new pipes instead of repairing, especially in older homes.
Abrasion From Concrete
Another common cause of foundation slab leaks is abrasion from the concrete where the pipes go through the slab, and if it is not sleeved correctly, it can cause the concrete to erode the copper. When pipes stroke against concrete and gravel during regular use, the constant friction can cause them to corrode.
Hot Water Pipes Are At Higher Risk Of Abrasion.
Even if the plumber sleeved the piping correctly, water will expand and contract as it gets hot and cold. Over time this can cause small holes that lead to a slab leak.
The Age Of Your Home
When it comes to slab leaks, the biggest culprit is time. In the Temecula Valley area, we have homes that date 50 plus years, and in cities like Sun City, many of the houses are 40 or 50 years old built-in the 1980's. Often these older homes are installed with galvanized steel or older copper pipes. These old pipes are more at risk of corrosion, cracking, wear and tear, and extended periods of stress or pressure on pipes that can lead to slab leaks.
Foundation Shifting
The question here is, did your foundation shift and cause a leak or did the slab leak cause the foundation to shift, which caused the damage. If your concrete slab sits on the ground, remember your slab can move because the ground can move, especially in earthquake-prone California. Some movement is expected, but if you have a slab leak, that can cause the dirt in that area of your house to get softer and your home will settle or move more there.
We don't see many of these issues above with newer PEX style water lines. Regular maintenance and checkups can help ensure your house's plumbing is in great shape, but it is essential to keep an eye out for irregularities and warning signs to help prevent slab leaks.
How To Prevent A Slab Leak?
Pipes run through the slab foundation of all homes, and these pipes can build leaks just like other pipes. Repairing these types of leaks can be challenging to improve as they are costly to diagnose and repair. When the slab leak is not fixed quickly, it can cause unnecessary water waste from wasted running water and water damage to your home. You can reduce the possibility of a slab leak and prevent the hassle and cost associated with repairs with a few precautions.
Avoid Using Too Much Water Pressure
Excessive water pressure can cause pipes, seals, faucets, and angle stops to weaken and break. Water pressure from the city can get as high as 150 PSI, which is far too high and can cause slab leaks, burst pipes, and leaking water fixtures.
If you believe your water pressure could be too high, you need to contact an experienced plumber like the Canyon Hills Plumbing team to inspect your system. We can install a pressure-regulating device to safeguard your home and prevent a leak.
Keep An Eye On Hard Or Soft Water
Be aware that water in your area is either hard or soft, and it can also cause corrosion in the pipes, which can lead to pinhole leaks that, over time, can lead to significant slab leaks. If you don't want to face a slab leak problem in the future, you need to follow this prevention tip.
Avoid Chemical Drain Cleaners
Drain cleaners are often used by homeowners to remove clogs in sinks and other plumbing systems. However, these are very harsh chemicals and can erode pipes.
Regular Maintenance And Annual Checkups
Routine checkups on your plumbing systems can help identify problems you may not be aware of and help diagnose future problems. We can look for signs of leaks inside and outside your home, check damage to fixtures, things that need to be repaired, and test your water pressure to spot potential issues under your home.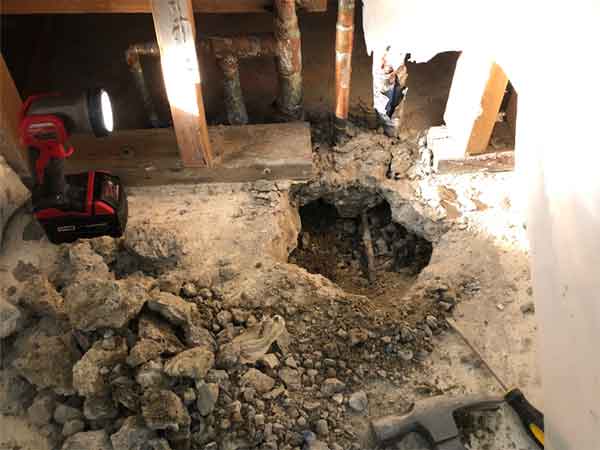 How To Fix A Slab Leak?
If you suspect a slab leak has occurred in your home, you need to keep an eye out for these signs:
Wet spots on the floor and carpet
Moisture or mildew under carpeting
Sudden spikes in your water bills
Low water pressure in the sink or shower
Sounds of running water even when the water is off
Spongy spots near the home's foundation
If you notice any of these signs, you could have a slab leak, and leaving it alone could cause costly damage to your home. To fix a slab leak before it leads to a hefty bill, you should hire a professional plumber as soon as possible. We can use our specialty tools to do slab leak detection spot the leak and provide you with the best slab leak repairing service near you today.
So, what are you waiting for? Contact our expert plumbers to protect and save your home from significant damage and your family from expenses in the long run.
Ask Us About Our Senior discounts, Veteran discounts, Military discounts, Law Enforcement discounts, First responder discounts, and Teacher discounts.
Licensed & Insured Plumbers
CA Lic.#1010329, C-36 Plumbing Contractor and C-42 Sanitation Contractor.
✅ For your trust and safety you can verify our CA Contractor license & classifications HERE