Tankless Water Heater Rebates and Benefits for Southern CA Homeowners
Water heaters are essential to every home, especially in regions like Southern California, where the demand for hot water, savings, and conservation is constant. Traditional water heaters have served us well, but the future is leaning toward tankless water heaters and hybrid heat pumps. If you're a homeowner in Southern CA and are curious about the differences between tankless and traditional water heaters, you can read our detailed comparison here. Below, we'll discuss why you should consider making the switch.
Energy Efficiency
One of the primary advantages of tankless water heaters is their energy efficiency. Unlike traditional units that continuously heat water in a tank, tankless heaters only heat water on demand. This means you're not paying to heat water you're not using, leading to significant savings on your energy bills.
Space-Saving Design
Like many in the suburbs of Southern California, homes in the Temecula Valley often have unique architectural designs and space considerations. Tankless water heaters, which Canyon Hills Plumbing proudly install, are an excellent fit for these homes. Their compact nature allows them to be mounted on walls, preserving valuable floor space and enhancing the aesthetics of utility areas. This design optimizes space and offers homeowners in the Temecula Valley greater flexibility in choosing installation locations.
Near-Endless Hot Water Supply
One of the significant advantages of tankless water heaters is the promise of an almost uninterrupted hot water supply. They heat water as it flows through the unit, ensuring a consistent hot water supply. However, it's essential to understand that while these units are designed for continuous flow, there might be situations, such as simultaneous demands from multiple appliances or extremely cold incoming water temperatures, where the hot water might not be endless. Proper sizing and installation from the plumbers at Canyon Hills Plumbing can help mitigate these situations and ensure you get the most out of your tankless water heater.
The Importance of Professional Guidance in the Transition to Tankless
While the numerous advantages of tankless water heaters are evident, transitioning from a traditional tanked water heater system to a tankless one can be a significant decision for homeowners. It's not just about the immediate benefits but understanding the long-term value and ensuring the installation process is seamless.
Expertise Matters: Though efficient, tankless water heaters are technologically advanced. Having a plumbing professional plumber guide you ensures you choose the right model suitable for your home's needs. As dealers for the best tankless water heater brands, we can assess your daily water usage, the size of your home, and other factors to recommend the best fit.
Navigating Rebates and Tax Credits: With various rebates and tax credits available, understanding which ones you qualify for can be a maze. At Canyon Hills Plumbing, we're familiar with California's incentives and can provide clarity. We help homeowners understand the criteria, ensuring they maximize their savings.
Seamless Installation: A tankless water heater's efficiency depends on its installation. The licensed water heater installers at Canyon Hills Plumbing ensure the unit is installed correctly, guaranteeing optimal performance. We also provide insights into maintenance, ensuring the system's longevity.
Peace of Mind: Beyond the technicalities, peace of mind comes with professional installation by Canyon Hills Plumbing. Knowing that your home's water heating system is in expert hands allows you to enjoy the benefits without any worries.
Flexible Financing with Canyon Hills Plumbing: We understand that transitioning to a tankless system is an investment. We've partnered with leading credit providers like Synchrony, GreenSky, and Turns Financing to offer flexible payment plans. From 0% interest options to terms ranging from 12 to 36 months, we ensure that the financial aspect of your upgrade is as smooth as the installation process.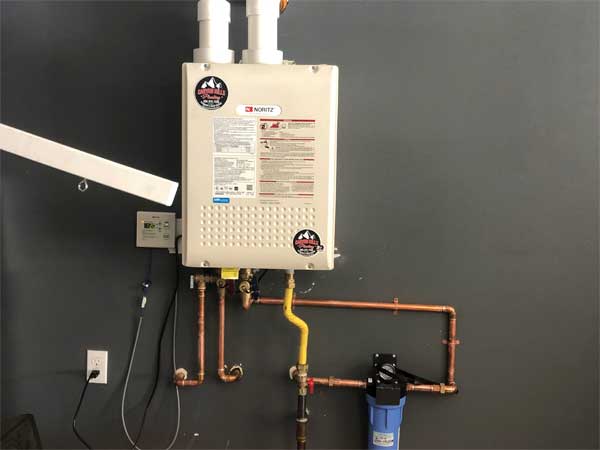 Local So Cal Gas Rebates
For Southern CA homeowners, there's an added incentive to switch. SoCalGas offers rebates ranging from $80 to $1,200 for various high-efficiency or ENERGY STAR-certified natural gas tankless water heaters. However, it's essential to note that only those replacing a storage water heater with a tankless one are eligible. Additionally, the tankless water heater must have a minimum UEF of 0.82 to qualify.
Federal Tax Credits
The Federal government is encouraging homeowners to adopt energy-efficient appliances on a national level. If you install a tankless water heater before December 31, 2023, you may be eligible for tax credits. For more detailed information on these tax credits and to check the eligibility of specific models, you can visit the official ENERGY STAR page on federal tax credits for water heaters. With the added financial incentives and Canyon Hills Plumbing's expertise, now is the perfect time to consider switching.
Considering Hybrid & Heat Pump Water Heaters as an Alternative
While tankless water heaters offer numerous benefits, homeowners in California have another energy-efficient option to consider: Hybrid and heat pump water heaters. These systems provide the convenience of digital controls and quieter operation and feature settings like vacation mode to save money when you're away. Additionally, they offer fast recovery during high hot water demand periods.
The state of California recognizes the potential of these heaters and has introduced a rebate program, making them even more accessible and affordable. By opting for a hybrid water heater, homeowners can enjoy significant monthly savings on utilities while also benefiting from state rebates.
If you're unsure which system is right for your home, the experts at Canyon Hills Plumbing are here to guide you. We can assess your needs, provide insights into tankless and heat pump systems, and help you make an informed decision that aligns with your home's requirements and budget.
Why Temecula Valley Homeowners Should Consider Switching to Tankless Water Heaters
For Southern CA homeowners, the advantages of tankless water heaters are clear. The benefits are numerous, from energy savings to space efficiency and continuous hot water supply. And with the added financial incentives from SoCalGas and Federal tax credits, now is the perfect time to consider making the switch. If you're looking to upgrade your home's water heating system, going tankless with Canyon Hills Plumbing is a decision worth considering.
Call
951-461-5401
or Submit Service Request for Your FREE In-person estimate*.
Ask Us About Our Senior discounts, Veteran discounts, Military discounts, Law Enforcement discounts, First responder discounts, and Teacher discounts. *Some restrictions apply.
Licensed & Insured Plumbers
CA Lic.#1010329, C-36 Plumbing Contractor and C-42 Sanitation Contractor.
✅ For your trust and safety you can verify our CA Contractor license & classifications HERE