Tankless Water Heater vs. Standard Tank Storage Water Heater
If you need to get a new water heater, it is important to weigh your options carefully before making a decision. Tankless water heaters and standard water heater models both have their advantages and drawbacks. Deciding what type of water heater to buy is based on several factors, including your needs, available space, and your budget.
How Do Tankless Water Heaters Work?
Tankless water heaters, or commonly known as instantaneous water heaters or demand-type water heaters, produce hot water only as you need it. Tankless water heaters increase the temperature of the water that passes through the heat exchanger with its powerful burners. These appliances generally use an electric element or gas burner as a primary source of power.
Tankless water heaters provide 2–5 gallons of hot water per minute on average, and gas driven tankless water heaters offer a higher flow rate than electric units.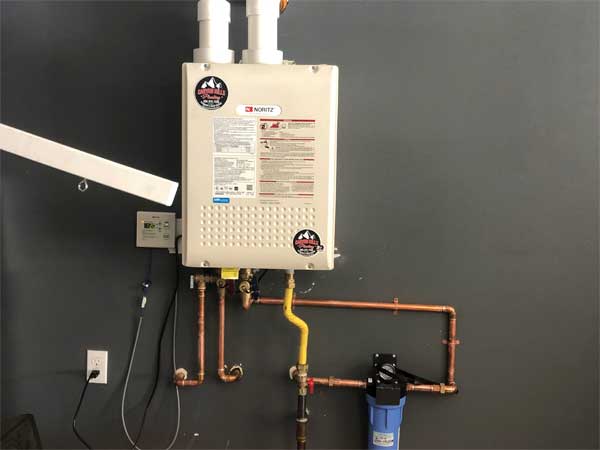 Benefits of Tankless Water Heaters
Some of the major benefits that tankless water heaters offer include:
You save money: One of the most notable benefits of a tankless water heater is that you will save money over time. It will only heat the water when it is needed, so your utility bill will be significantly lower each month, and you will waste less water.
More space: A tankless water heater doesn't take up much space, which is particularly good if you don't have much to work with.
Hot water on demand: You will never again have to worry about not having hot water when you need it.
They last longer: They typically last twice as long as tank water heaters with an expected lifespan of 20 years.
Drawbacks of Tankless Water Heaters
The upfront cost of tankless water heaters is more than a traditional tank water heater.

If retrofitting is required, some installations can be more expensive.

Choosing the right model is essential, so you can avoid being "output challenged" to ensure your new unit can keep up with your family's hot water demands.
Why Buy a Traditional Water Heater?
Some of the reasons to buy a traditional water heater include:
Low upfront cost: You won't have to spend very much on a standard tank storage water heater.
Cheap repairs: The repairs that traditional tank water heaters require are usually pretty affordable.
Reasons to Avoid Traditional Water Heaters
Those who have a traditional storage-tank water heater will have to pay more for their utility bills on a monthly basis.

Traditional water heaters tend to take up quite a bit of space.

Don't provide on-demand hot water.

They waste water and electricity due to inefficiency by design.

They don't last as long as a tankless water heater.
Installation
Whether you decide to get a tankless or traditional tank water heater, it is a good idea to pay for professional installation services. Canyon Hills Plumbing services the Lake Elsinore, CA area, and we can be of great help. When you are ready to replace your current water heater, you should consider taking advantage of our expert water heater knowledge, second to none customer service, and affordable installation prices.
Cost
The cost of water heaters varies by manufacturer, type, capacity, and gas or electric. While it is true that tankless water heaters cost more than traditional models, it is well worth the investment. A tankless model can cost anywhere from $1500 to over $4500 installed.
Choosing a 30-50 gallon standard tank storage water heater can cost anywhere from $1100 to over $1400 installed. But it depends on whether it is gas or electric. You will find that electric models tend to cost a little less to purchase, but may cost more to operate longterm.
Conclusion
Those who are on a tight budget and need to save money now will find that a standard tank water heater is probably the best option. If you can afford to spend more upfront, a tankless model will save you quite a bit in the long term. The fact is that tankless water heaters are far more energy-efficient, and you'll have hot water whenever you want. 
Contact us today for a free quote so we can help you decide which type of water heater will best fit your needs and budget.
Ask Us About Our Senior discounts, Veteran discounts, Military discounts, Law Enforcement discounts, First responder discounts, and Teacher discounts.
Licensed & Insured Plumbers
CA Lic.#1010329, C-36 Plumbing Contractor and C-42 Sanitation Contractor.
✅ For your trust and safety you can verify our CA Contractor license & classifications HERE